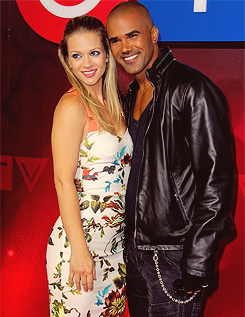 SHEMAR MOORE is in Toronto, along with his
"Criminal Minds" co-star, A.J. Cook. They attended
the CTV Upfronts and have been doing numerous
interviews to promote Season 9 of the series.
SHEMAR also has several night club appearances
scheduled while he's in town to meet fans and promote
his Baby Girl clothing line.
The profits from Baby Girl clothing are donated to the
National MS Society
.
(Below: SHEMAR and AJ talk to TV Guide Canada)
Over on the LOVING MOORE AND MORE main site,
we are doing one of the things we do extremely well,
TwitterStalking SHEMAR. Photos and video clips are coming
in quickly, and we're working hard to keep up with them.
SHEMAR has more club appearances scheduled this
weekend where our Baby Boy gets to mix buisness with
pleasure. He is returning to LA on June 10.
LOVING MOORE members are hardcore SHEMAR fans.
We relate to the world as it revolves around our guy.
Serious fans welcome.